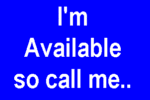 To pre-schedule, ask questions or request a session when my indicator is  set as "Unavailable", email me at raqs.vanessa@gmail.com
~*~
BIO · BLOG · GALLERY · SPECIALTIES · LIMITS · FIRST TIME PHONE SEX · PINUPS · FREE EROTICA · MAKE IT GREAT
~*~ 
~*~
I deal in fantasies & secrets, in what is arguably one of the most timeless & pervasive industries in human history…I do it with class, striving to give my best…& yet, my neighbors have no idea what it is that I do…though, given what they've likely overheard, I have no doubt that they have often wondered! 
~*~
Some Quick & Dirty Details
Hi, I'm Vanessa. Here is a little bit about me…
I'm a sweet & affectionate homemaker, also an eager submissive with a special fondness for being tied up & thoroughly used… I have a vivid imagination & happily use it in role-plays & for writing Erotica. The girlfriend experience is among my favorite session styles. I adore foot fetishes… Also sugar daddies who want someone appreciative to spoil.
Anal sex gets me extremely excited! And, as for blowjobs… The idea of having something thick & hard between my lips & against my tongue, ready to feed me a salty sweet treat at any moment, while strong hands grip my head to urge me on…is an incredible turn-on!!
Most importantly, your excitement will excite me! Be expressive, be loud, & never be afraid to Tell Me what you need.
To learn more, read my Bio & Specialties.
Need an Even More Discrete Way to Pay?
Online billing for my site is very discrete, but if you wish to avoid any & all questions about charges for our sessions together, consider using a gift card from Visa or MasterCard. These work the same way your credit card does, during checkout. However you will NOT receive a statement in your mail, email or bank account. These cards can be purchased at many gas stations, grocery stores & convenience stores.
Payment Options
At this time, I only accept those payment methods which are offered through my website. These include Visa, MasterCard, & Discover. If you do not have a credit card or a Debit Visa card, I again suggest purchasing a Visa or MasterCard gift card from your local grocery/convenience store or gas station. This will work the same as a credit card, without requiring personal credit or the use of a bank account. I will not accept Western Union, MoneyGram, wire transfers, PayPal, etc., as a means of payment for sessions.
Looking for more erotic literature from hot PSO's? Check out Sensual Conversations! 
Are you a PSO, interested in exchanging banners/links with CumverseWithMe.com? Email me at raqs.vanessa@gmail.com.