I placed four brand-new, thick black leather dog collars on the small mahogany table next to his straight-backed chair. I had modified two of these collars for our bondage play, by punching extra holes so that they would fit even tighter.
Lucas kept his eyes downcast. Seated quiet, lovely in his nudity. He gave no obvious reaction to the presentation of our new toys. Nonetheless, his excitement was palpable in the charged air around us, and evident in the swelling of his magnificent cock.
I poured myself a glass of wine and took a single sip. I replaced the wine on the table, next to my display of black leather and stainless steel hardware, then proceeded to pick up the first two dog collars. These were the unmodified ones. I knelt on the floor and wrapped, first one and then the other, around each of the front chair legs, folding them to secure the buckles around Lucas' smooth bare ankles as well.
I stood, took a second sip of my wine, then picked up the last two dog collars.
Obligingly, Lucas placed his arms atop the arms of the chair, and waited patiently. I fastened the modified dog collars around his wrists and the chair arms, pulling them tight. I straightened and looked over my bondage work thus far. Lucas tried to straighten his legs and arms, testing the security of his bindings. There was no give. Only a slight creaking of the leather in mild protest.
Placing one burgundy-lacquered fingernail beneath Lucas' chin, I tilted his head up so that his eyes met mine. Those soft, gray-green eyes looked into my own hazel eyes–mine, framed by black Venetian lace of a stylized hawk mask–with absolute trust and no small degree of patiently smoldering lust.
Without breaking eye contact, I reached my free hand into the top of my satin corset, and extracted a long strip of cobalt blue silk from between my breasts, enjoying the feel of it sliding up my skin. A trace of my amber perfume clung to the rich fabric. I released Lucas' chin and slid the silk between my fingers before stretching it across his eyes and then tying it securely behind his head, knotting it against the auburn curls of his soft, chin-length hair.
I stood back to admire the sight of him, bound and compliant. His cock, so hard it stood upright against his stomach.
I sipped my wine, drawing the smooth, dry libation between my burgundy-painted lips, savoring both the wine and my artistry. Lucas looked positively delicious.
Next, from a drawer in the mahogany table, I extracted a tiny glass bottle of oil, scented heavily with sandalwood–one of my favorite fragrances! I unscrewed the little silver lid, withdrawing the attached metal wand, which dripped with the oil. I used the wand to apply that earthy aroma behind his ears, beneath his jaw and at the base of his throat, where I could see his pulse beating. I tipped the bottle gently against the center of his chest, watching as the glistening oil trailed down between his pectorals and over toned abs. Candlelight within the room, gilded that stream of precious oils in lovely, flickering light.
Closing my eyes for a moment, I breathed in the exquisite scent of Lucas, blending with the sandalwood. I leaned forward and inhaled deeply at his hairline, letting my nose gently caress the edge of his sensitive ear, then drifted down to let my nose trace his jawline, enjoying how he shivered at the touch, before kissing his sweet, eager lips.
Again, I rose. Picking up my wine, I began to walk a slow circle around him. I could sense Lucas tracking my movement, by the tap, tap, tapping of my heels on the hardwood floor. Once behind him, I paused briefly to bend down and brush kisses along his throat. I thoroughly enjoyed the shiver which ran visibly through him again, as I did so.
Once completing my circuit, I placed my wine back atop the table and reached for a small velvet pillow, which had waited upon the chaise lounge. I tossed it to the floor, before my lover, then slowly lowered myself to kneel upon it, between his calves.
Prior to escorting Lucas into this room, I had set out several items beneath his chair, within easy reach. First, a bowl of ice. Second, a feather. Third, a small envelope of Pop Rocks candy. And, fourth, a small vibrating, silicon panty insert.
I reached for the panty insert first, setting it to its highest vibration. I reached up to brush the vibrating, satin-y finish over Lucas' nipples. They tightened, darkened and begged for more. I let the vibrator's edge follow the path of the sandalwood oil, down the center of his chest and to his navel. I used it to massage around the top of his inner thighs, near the crease of his groin, drawing additional blood flow to the pelvic region. His firm cock, throbbed. A tiny transparent bead of pre-cum seeped, glistening at its tip. I leaned forward and graciously licked up that inviting little pearl, earning a deep groan from Lucas. Finally, I pressed the silicon insert against his remarkably full balls, letting the vibration linger. Lucas let his head fall back. He moaned low and long… His hands flexed upon the arm of the chair, wanting to reach for me, wanting to pull my lips back to his cock. The sturdy bondage I'd employed, held true!
I extracted the insert and, at last, slid it into the lining of my black lace panties. That delicious vibration was nestled against my pussy, tantalizing my clit. I could not help but roll my hips against it, humming a note of pleasure as it teased.
I was ready to select my next "toy".
My fingers found, and gripped, the stem of the long ivory ostrich feather. I pulled it onto my thigh in preparation. First, however, I used my other hand to grip the base of Lucas' hard, sleek cock. My lips found its tip and I drew him into my wet, hot mouth. I swirled my tongue around its tip and, again, tasted his pre-cum. I sucked and teased at a leisurely pace. The chair rocked slightly, as Lucas again tested his binds, wanting to reach for me. Wanting to writhe in his pleasure. The sounds which left his lips, were thrilling and I felt an answering wetness between my legs. I ground my pussy down against the little vibrator in my panties. Already, I wanted to cum! It made me whimper in sympathy with his own plight. Though he would have to wait much longer than I.
I raised the feather. Opening my eyes to slits, I sought out his ticklish zones. Directing the tip of my feather to them, I was quickly rewarded. While trailing the feather up the side of his muscled torso, towards his arm, he jerked in his bindings. I sucked him into my mouth a little more deeply to silence his protest. The feather found another mark across his shoulder. He began to plead. My only response was to take his cock as deeply into my throat as it would go, relaxing the muscles of my throat to take him in fully. His pleading faded to a whimper of defeat and pleasure.
I really liked this game…
Once I'd had my fill of that treat, I laid the feather back down upon the floor. For a time, thereafter, I lazily licked and sucked his cock, occasionally massaging his heavy balls. I moaned around the head of his cock, letting the vibration of those moans pleasure him further.
And, when my first orgasm broke over me, his cock was deep into my mouth and he experienced the full physical timbre of my screams.
Eventually, the waves of climax ebbed. I rested my forehead against his taut abdomen, releasing his cock momentarily, and I took that time to catch my breath.
Lucas waited patiently, though I could tell he was all the more turned on, from my having cum so hard, while pleasuring him.
Gradually, I parted my lips for him again. One hand cradled his balls. The other pumped his shaft, using the lubrication of my saliva to make it slick. I had a tight seal, with my lips, around that thick mushroom head. My tongue swirled and I sucked him greedily, bobbing my head to meet my hand as it pumped in unison. I listened to every sound he made, tracking those cues until he came closer to orgasm, himself. I listened. I waited. His moans grew more excited and, at last, he was on the brink. Just as he prepared to yell his victory, and shoot his load into my mouth, I withdrew and clamped my thumb and forefinger around the top of his shaft, right beneath that gleaming mushroom head, effectively cutting off his orgasm. His breath left him in a stunned gust and, after a brief moment of shock, he laughed with surprise. I allowed a smile to curve my lips, though his blindfold kept him from seeing it.
I next reached beneath his chair to take an ice cube from the bowl.
I placed the ice cube in my mouth, rolling it around with my tongue and waited a few more seconds until Lucas calmed.
I began to kiss my way up the inside of one of his thighs, while my hand massaged his other. Eventually, my hand again wrapped around his shaft–which was recovering from its denied finish and again very hard–and I squeezed gently to keep it that way. My lips brushed the tip of his cock, teasing, not yet revealing my next surprise.
l tantalized with kisses, strokes, nuzzles and touches. When his swollen member was fully rock hard again, and a shade darker then the last time, I drew him into my mouth. The cold of it was a shock! He sucked in a breath, loudly, and cursed. I took in his entire shaft, in one swift motion, somewhat tightening my hand around it's base to help prevent him from softening too much.
He softened only slightly, but quickly became hard as stone again as my mouth warmed to him. I brought him close to orgasm before stopping to pop another ice cube into my mouth. I let him calm while I kissed his thighs, his stomach, and his smooth-shaven balls. The ice cube quickly melted, leaving the inside of my mouth cold, once again.
This time, when I deep-throated him, revealing my cold surprise, he welcomed it with a groan. I sucked him noisily, working hands and tongue to bring him to the edge once more.
Again, though, I let him come within a breath of orgasm before I locked my thumb and forefinger around his shaft to squelch it. He cursed, fighting hard to pull free of the leather collars. My bondage tactics continued restraining him to my will, however.
Lucas' head fell back with a frustrated moan. I chuckled softly…
His cum had, nonetheless, seeped from the crown of his stifled member. When I judged he'd had sufficient time to recover, I carefully licked the mess clean. His moan came, soft and grateful.
Drawing back then, I chose to suck all ten of his fingers, each in turn, kissing his hands when I finished. I brushed kisses up one arm and across his collarbone. I dipped to take his left nipple between my teeth and massaged it gently with them, nibbling and rolling it. Lucas panted and groaned. I grew wetter, listening to him.
I bent to retrieve one more ice cube, which I placed between his lips this time, allowing him to draw my fingers in briefly, along with it. I kissed his neck while he sucked on his refreshment. I then rose up, placing one knee on the chair beside him, and pressed one of my nipples to his mouth. I gasped, enjoying the pleasure as he sucked my nipple into his cold wet mouth.
I repositioned my other foot so that I straddled his arm. Crushing the little vibrator between his arm and my pussy, I rocked against it and, while he devoured my nipple obediently, sucking and pulling, I quickly brought myself to another orgasm. I drenched the vibrator, my panties and his arm. My thighs shook with the aftershocks of it.
I pulled away from Lucas, but paused for another kiss, before descending back down to my velvet cushion.
I began to massage the muscles of his groin, working around his heavy balls, his shaft and the inside of his thighs. I kissed his cock in all of its alert, straining glory.
Finally, I reached for the small envelope of candy beneath his chair. I tore it slowly open, allowing Lucas to hear the unusual sound. I pulled my lips away from his begging cock them, and pushed open the envelope to spill some of the Pop Rocks into my palm. He waited patiently, but curiosity was there in his body language.
I tipped my head back, to pour the candy into my mouth. The moment those tiny chunks of sugar hit my tongue, they began to snap, crackle and pop! I stuck out my tongue so that the sound would be most audible. Puzzlement was in every line of his face and physique.
I added another handful to my mouth. closing my lips, I took a moment to savor the sweet taste and to spread the candy around my mouth, keeping it from forming too many clumps.
I imagine that Lucas' flesh must have felt quite sensitive by this point, for all that I had denied him, teased and forced him to endure. I smiled with this thought just before I parted my lips and took his throbbing, engorged phallus into my mouth. I surrounded it with the violently popping, fizzing candy. He exclaimed and shuddered, then moaned loudly. I began to slowly work my lips and tongue in combination with the Pop Rocks, and Lucas made the chair and leather groan with him as his body flexed and moved within his restraints. I was more grateful than ever that I'd chosen to get serious with our bondage play, this evening. Lucas sweated and moved… As the heat grew, the room filled with the scent of sandalwood!
Whether from pain or from pleasure, but most likely the perfect combination of both, his reactions were strong. Magnificent! I moaned deeply around his cock. Letting him feel and hear my appreciation for the show he was giving me. The vibrator between my legs was already helping me towards a third orgasm.
I slid both hands around to cup his ass, slightly digging my fingernails into that tight, muscular flesh. I curved one hand around further. Probing with one finger–the one digit who's nail I'd trimmed in advance–until I found his anus, I carefully slid it into his ass. He threw his head back with a primal sound, like a cross between a grunt and a yell. All the while I devoured his cock with absolute abandon. The candy had since dissolved. I deep-throated him repeatedly before bobbing vigorously upon the head of his cock, demanding his climax.
Knowing, feeling, that he was about to explode, I found my own release and again I screamed around his sex! As though I'd pulled a trigger, he followed, yelling at the top of his voice. Hot, heavy jets of his cum struck my tongue and back of my throat, over and over… I rewarded him, swallowing all he gave me.
He gave much.
When, at last, he had finished and the shuddering aftershocks had quieted, I slowly stirred myself to unbuckle his wrists and ankles. I untied the blindfold and let it slip to the floor. These things would later be returned to our treasure trove of bondage implements.
I held his eyes and reached for my wine glass–this time passing it to him. Lucas welcomed it, taking a deep drink of the rich Cabernet. Then, he reached one hand to curl around the back of my head and pulled me in for a deeper kiss.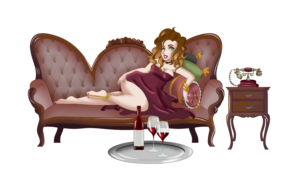 I adore sex toys and bondage! 
© 2017-2020 Vanessa Raqs, All Rights Reserved
Want tto have some fun with the author?
Follow @cumversewithme on Twitter for Blog/SIte updates
(WordPress Is informing me that I have not used my focus keyword often enough… So…bondage, bondage, bondage, bondage, bondage, bondage, bondage,  bondage! There!! I am allowed to cheat now and then lol)