Getting naughty with Vanessa…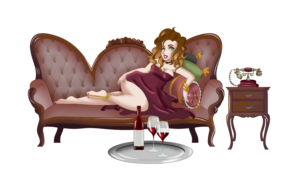 "What do you like?", "How would you like to get naughty?"
These are questions which I get asked often, in calls. It still touches me that, while paying for a session, you guys still want to know what you can do to turn me on!
First off…your excitement is most important to me. Knowing that I am hitting the right "buttons" excites me… I get wet knowing that you're turned on by me, by the naughty things I'm doing and saying. I have found myself getting very hot over things that I'd never have expected would turn me on, simply because the guy I'm playing with, is so into it! I can't say it enough–if you're loving it, then I'm getting off on it too!
As for my personal kinks, turn-on's, favorite roles, and go-to masturbation fantasies…
I love to be dominated!! When a man tells me how he wants to hold me down, tie me up, and make me take it, however and wherever he wants to give it to me…my body turns to lava and I get wet, fast! I'm getting wet right now, just writing about it!
I love to fantasize about being the teen babysitter, schoolgirl or cheerleader… Being seduced by the older neighbor or, hell, the entire college football team!
Yep, these are the kinds of things that this naughty housewife daydreams about, while she's home alone, taking breaks from her chores…
And…I really love anal sex! Some of my best, most intense orgasms have happened during anal sex, while I use a favorite vibrator on my clit. We are talking scream-inducing, uncontrolled climaxes, here–tell me you're going to make me take it all, up my tight, sexy ass, and listen to me lose control!
Oral? Oh, yes! On you? Yes please!! I can't tell you how many times I've made myself cum, masturbating to the thought of a man gripping my hair, to hold me in place, while he cums in my mouth or all over my face!
I respond very well to passionate scenarios… The more you want me, the more you want to do dirty, naughty things to me…the more responsive and excited I am going to get.
As you have likely already realized, I also really love toys… Vibrators, dildos, Benewah balls…did I mention vibrators? I really love vibrators… There is one next to me, right now, which is looking extremely tempting, while I write this!
Despite being primarily submissive, I have been surprised often, by how turned on I get by the idea of tying someone else up. Of making you endure my will. I must even admit to experiencing an adrenaline rush from being sexually dominant and even cruel. I am most comfortable in a submissive role but I suppose we all have the capacity to get high off of power. I am no exception.
Being a PSO (phone sex operator), I expect that it should come as no surprise when I tell you that money turns me on, also. I even love to read about courtesans, geisha, and other professions like my own throughout history. The thought of a man giving me cash so that he can take his release with me, is hot! I mean, REALLY! Hot!
Heard enough about what I like best? Okay…
I am also quite good with role-play. I am intelligent, articulate and skilled with storytelling. I enjoy being a new character. I am very comfortable with make-believe. My vivid imagination and well-developed inner eye, will put me right there in the fantasy with you! Want me to be someone in particular? Want to fulfill an elaborate fantasy which is unobtainable in our daily mundane lives? Want to try something new, naughty and daring, in a safe manner? I am very willing to help you with that…
I enjoy mutual masturbation, masturbation instruction, telling you what I am doing to myself or what I would like to be doing to you…
 I adore the girlfriend experience! I am sweet, affectionate, romantic, extremely appreciative of being spoiled, eager to please and I love to build a bonded relationship with my guy.
I've tried many new things, since becoming a PSO. It has been my aim to push my own boundaries, explore new things… Everyone has limits, of course, but I try to take my own with a grain of salt. When it comes to trying anything truly new or uncomfortable, I gain courage from information. The more I know, the better I can settle into the role. If you are unsure about my ability to take on whatever it is you have in mind, don't hesitate to contact me. I'm very easy to talk to. I am sweet, caring and encouraging. I don't bite… Unless asked to! And, when I do, be assured that I enjoy it!!
So…what are you looking for?