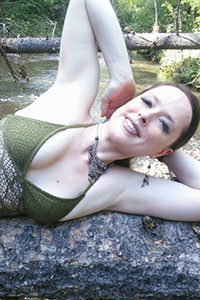 Written by Vanessa Raqs
The first thing you need to know about how to have a phone sex session, is that I want you to enjoy yourself. Through my own sexual experiences and the life I've lived, I realize that every individual on this big planet, is unique in their sexual tastes. I don't expect you to fall into any one category when you call.
I also don't always expect you to know exactly what you want.
That said, relax! Or, try to. It's alright to be nervous too… I understand well, what that's like.
Phone sex sessions are about having fun together, sharing excitement, and exploring. Maybe it's even about laughter, sharing secrets, and getting to know one another. For some, phone sex is, itself, is a fetish  For some, it is therapeutic. For others, phone sex with an operator can even be downright necessary, based on your lifestyle, physiology, proclivities, etc. Some of us simply have extremely vivid imaginations and therefore find phone sex to be more fulfilling than other sexual experiences (stimulated mind…stimulated body). Whatever the case, or your unique situation/tastes, I am here for you. To be yours.
Learning about all of our individual kinks & turn-ons, can take a lifetime.
Or maybe what you are looking for is just somebody to talk to & feel close to. A session can be about any kind of intimacy, it doesn't always have to be about sex… 
The number one element to an extremely successful phone sex session, is communication. Be vocal! Whether that means moaning when I say or do something you like, or directly telling me what it is you need. Whatever the case…open your mouth and let it fly!
Personally, I really do get most excited, when I hear how excited you are. Please don't be shy! I want to know you're having a good time too, with me. If you aren't, I want to know how to change that. Like I said, everyone is different. it is my job to pay attention to you, to respond to your pleasure and reactions, and to tailor your session to fulfil your needs. I love this part of my job. I love satisfying my partner…finding that perfect sweet spot and playing with it until you explode for me. I love knowing that I am providing you with a stimulating experience, meant just for you.
If it is important to you to know what it is that turns me on, I suggest you read my Erotica. I have yet to write an erotica short story which did not result in my repeatedly taking breaks to spend quality time with my favorite vibrator. I write about what turns me on!
Remember, our sessions are between you and me… The awesome thing about phone sex is… It's all fantasy! It's all exploratory. And it's all safe. This is where you can explore the things that you might not feel comfortable exploring otherwise. Or perhaps, those things which you simply can't explore otherwise. Phone sex is generally a safe zone. So let's play!
Are there some subjects which I am less comfortable with than others or unfamiliar with? Of course! I am human, after all… But I'm always open to communication, experimenting and trying new things. You can always send me an email. I regularly communicate with my clients, or prospective clients, through email. We can email back-and-forth until you feel comfortable with calling me.
If you aren't entirely sure what it is you need from me, more exploration is necessary. In these cases, scheduling a longer session time. It can be really helpful! We can try many different things and see what you respond to. If you are a regular caller, we can learn more, and more about one another over time. I make it my priority to pay attention and to learn from each session we share together.
Phone sex with an operator can be an exciting, safe, non-committal "play date" to explore what turns you on and gets you off.
So, to sum up, when it comes to how to have phone sex with a PSO…when in doubt, communicate… Otherwise, let's focus on having a good time together! Be playful and open to exploration with a sweet, kinky PSO!
XX, Vanessa