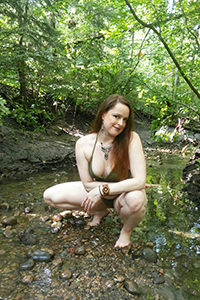 Written by Vanessa Raqs
With practiced precision, her loveliest of lovely nail polish shades, "I Lilac it" by OPI, glided smoothly over her carefully shaped toenails. Her feet had been worked smooth with an emory board, soaked in the bath and moisturized with coconut oil (along with the rest of her). Those feet were looking smooth and flawless.
Fully shaved, clean and with every part of her feeling supple and pampered, Gina, was feeling more relaxed than she had all week.
She sat on her bed, wearing fuzzy, blue plaid pajama pants and a freshly laundered, white tank top. Her silky, dark blond hair was swept up into a messy bun. She had high cheek bones, a clear peaches & cream complexion and her almond-shaped hazel eyes were currently cast down, focused steadily on every stroke of the polish brush.
Gina was lean and athletic–a Pilates instructor–with high, small breasts and gently flaring hips. She was pretty and somewhat delicate looking, but her very long, elegant legs were, without a doubt, her most striking feature. When she put on a pair of high heels and went out dancing with friends, the men couldn't keep their eyes off her legs!
Today, Sunday, was Gina's self-pampering day. No work, no other plans or obligations. She always set Sundays aside just for herself. At 23 years old, her life was fairly uncomplicated. She'd even been seeing a great new guy–Drew–although it was still too early to be more than cautiously optimistic. He'd taken her on a couple of fun date nights so far, anyway. He'd been charming, playful and sexy…if a tad too respectful.
Gina couldn't help hoping he'd make a move on her soon though. She needed to be fucked, badly! Her only vibrator–a pricey but well-worth-it, Lelo number–had just kicked the bucket last weekend…the day after she'd paid to replace all 4 bald tires on her little Neon. She couldn't, in good conscience, splurge on a decent replacement until her next paycheck. Possibly not until the one after that, actually… After all, her landlord would not likely consider a need for new sex toys as a legitimate excuse for a late rent payment. The thought of asking such a favor did make her chuckle, however.
All ten of her toenails were at last all tended to. She admired her work for a moment before taking up her tablet, intent on reading emails while she waited for the polish to dry.
Several minutes past while she became absorbed in browsing online shoe sales and replying to friends. When the doorbell rang, she was startled halfway out of her own skin!
Tossing her tablet onto the quilt, she sent a quick prayer up to the OPI gods that her perfect polish job was dry enough to avoid damage, and sprinted for the front entry.
Opening the door, she was surprised to discover Drew, her suitor of late. He stood on her neatly swept front stoop, looking just slightly bashful but, as ever, relaxed and appreciative of her appearance. His face, with those rounded boy-next-door features, topped with short and tidy light brown hair, lit up with a grin when he saw her. His forest green eyes smiled too, and swept up, then down the full length of her body. His interested gaze stopped on her feet.
"Cute toes…" He murmured with a peculiar tone in his words, before returning his gaze to her own again. There was something speculative in his expression this time. Was she imagining the heat there?
"Come in! " She said shyly, smiling brightly at him. He stepped through the door and placed a kiss on her lips, lingering longer than he had at the end of their previous date.
"You look adorable" he told her softly, his lips still pressed lightly against hers. She couldn't stop a giddy little giggle in reply. That giggle prompted a pleased-sounding "Mmm…" from him, which made her feel warm all over.
His hands came up to brush up and down her sides, slightly lifting the tank top to reveal soft, creamy skin. His eyes danced over the reveal, appreciatively. Drew used his foot to push the door closed behind him. Then he stepped into her, causing her to take a step back towards the wall. He proceeded with another, then another…
Soon, Gina's back was pressed firmly against the wall. Her breathing was quick and her heart raced. Oh, yes, this day was just getting better and better!
Drew had been nothing less than a perfect gentleman during each of their dates, with the exception of some playful flirting. This was the first time she had encountered this more forceful side of his personality… To call it exciting, was an understatement.
Gina managed a breathless "Bedroom is that way…" between kisses. She lifted her hand to wave at the general direction from which she had come. Being pressed up against him, she felt the rumble in his chest when he laughed in reply to her eagerness
Gina was relatively tall, but slender, with delicate features. Drew was taller by a few inches, fit and built sturdy. He made her feel petite by contrast.
It took her by surprise however, when he bent suddenly, to reach an arm behind her knees. His other arm was around her back, and he quickly lifted her into the air. She gasped but did not protest. She would do nothing to stop this. Not a chance! She needed this, dammit!
He carefully maneuvered her through her kitchen, into a short hallway, and quickly found the door to her bedroom. He playfully tossed her onto the thick quilt, earning a delighted laugh from her. Then he noticed her tablet laying, abandoned on the corner of her bed. The last thing she had been looking at, when the doorbell had chimed, still on the screen–a sexy pair of dark amethyst purple, strappy sandals, with 4-inch heels, shapely arch support, a flirty open toe, and a petite pleated bow accenting the back of the ankle strap. They were something she would love to have for salsa night at the club, with her girlfriends. But, with a price tag of $399, she could only afford to admire them.
Staring intently at the image, Drew growled "I am so buying you those…".
She managed only to squeak "What–" before he locked his lips over hers again, kissibg her deeply. By the time he had pulled back, she'd forgotten what she was about to say and no longer cared.
He slid his hands under her tank top, then pulled it off over her head. Bent to lick and gently bite each of her tight little rosy nipples, while he loosened the drawstring on her pajama pants. They quickly joined her tank top on the bedroom floor.
It just so happened that the lacey thong panties she wore, perfectly matched the lilac purple shade of her nail polish.
Drew sat back on the bed, taking in the full effect. He grasped each of her feet and placed them flat on the bed, with her knees spread wide, so that he could admire it all–her high, firm breasts, toned tummy, long legs, the delicately sexy panties and perfectly painted toes of her pretty feet. She felt self-conscious as his eyes took her in, inch by inch. But his gaze also set her body on fire. Her tiny panties quickly became soaked!
He lifted her left foot to his lips, kissing the arch. It tickled and thrilled her, sending electricity up through the sole of her foot, to her core. He began to slowly massage her left foot, then his lips were on her big toe. He parted his lips and sucked her toe into his hot, wet mouth. His groan vibrated into her. She felt his tongue glide playfully over the pad of her toe. The sensation was so sensual, sinful and delicious… She moaned! Her head fell back onto the pillow, and he continued to massage the soft skin of her foot, as he tended to each of her toes with lips, tongue and suction.
He paid the same tribute to her right foot, before letting his incredible hands slide slowly up her ankle…her calf…her knee and her long, slender thigh…finally coming to stroke the slick, textured surface of her lace panties.  All the while, he passionately sucked her toes, watching the progress of his fingertips with hooded eyes.
He nudged the drenched fabric aside and his fingers found the smooth shaven flesh of her swollen pussy. She parted her lips to release an eager gasp. He slid two fingers easily into her slippery, tight opening.
He watched her every response, as he finger-fucked her. Loved the way she arched and moaned, rock her hips to invite his fingers deeper into her. Relished the sweet way she whimpered each time he circled his thumb over her tiny clit. And he loved the way she moaned loudest, each time he accented his fingers' movements with another another suck of her pretty toes!
When she cried out his name "Drew!" with wild desperation in her voice, he went to her. He slid her tiny, drenched, panties off of her slender legs and tossed them over his shoulder. Settling between her legs, he replaced his thumb with his lips and sucked on her clit while his fingers massaged her swollen G-spot within. Her cries came louder and more frantic. Gina's long, elegant legs wrapped around his shoulders and her hands gripped his head, pulling him into her, nearly smothering him.
Gina realized how deliciously naughty it felt to be completely naked and exposed, while being eaten out by a man who hadn't yet removed a a single piece of clothing.
She came spectacularly for him! Soaking his hand with a warm, wet gush, as the inner walls of her pussy spasmed and clamped around his fingers. Her sweet voice screamed out, uncontrollably with each wave of her orgasm.
When she at last fell limp against the quilt, panting and thoroughly spent, she barely whispered the words "Oh my gosh…I have never…had an orgasm…quite like that, before!"
Drew's answering chuckle was an octave deeper than before and it rang with satisfaction, as he moved up her body to position his hips between her thighs. He leaned down to kiss her, letting her taste her own juices on his lips.
He set up then, pulling his shirt over his head and letting it sail off to land on top of her clothes. He undid his slacks and, with a few practice maneuvers, removed his pants and let them too join the growing pile on the floor.
Then, without breaking eye contact, he reached back his right hand to grasp her left foot again. He pulled it forward and was delighted to see how flexible she was! He soon held her ankle near her own left ear. She smiled comfortably up at him, saying only "Pilates" as an explanation. He smiled back, letting his fingers massage the arch of her foot again. Her gaze softened at the sensual contact. "Mmm…" she breathed.
Putting his weight onto his right elbow, so he would not have to release his grip on her foot, he reached his left hand down to grasp his cock. He was rock hard and dripping with precum! He pressed the thick mushroom head against her tight, wet opening and began to guide it slowly into her. "Fuck–" he bit out, feeling her sheath hugging his length, so hot and snug. Long, slow thrusts in and out of her, felt divine! She moaned, her eager hips meeting him thrust for thrust. She reached down and grasped his ass, digging her pretty purple fingernails into his ass. He began to fuck her harder. Turning his head to one side so that he could lick and suck on her toes while he pounded her cunt for all he was worth. She urged him on with dirty talk, sweet words and whimpers.
It wasn't long before his balls began to tighten, and the pressure built. He was about to cum…hard!
With one more hasty kiss on her soft, panting pink lips, he pulled out of her and drew her foot towards himself. He pumped his cock with his other hand. When he came, he bellowed, shooting his load all over the sole of her perfect little foot
She felt every strike of his hot load, searing that sensitive skin. It felt…amazing.
* * * * *
A few days later, Gina found a package, addressed to her, on her front stoop. When she opened it, she discovered the exact pair of strappy sandals she'd been coveting when Drew had dropped in on Sunday. The supple, quality leather felt luxurious to her fingers as she caressed the shoes, admiring. A gift message was included in the box. It read "I want to see you wearing these, when I come to visit you, this weekend. Yours, Drew". Heat spread through her, imagining what he might do to reward her when she did as he asked. She also wondered what it might be like to lean back against her pillows, before him, and stroke him off with her pedicured, moisturized bare feet–one on either side of his spectacular cock . Perhaps this weekend, she would find out…
© 2017-2020 Vanessa Raqs, All Rights Reserved
Want tto have some fun with the author?
Follow @cumversewithme on Twitter for Blog/SIte updates & special phone sex deals.
Do you have a foot fetish?
Or perhaps this Erotica just turned you on, period! if you are planning a session with me, over the phone, remember mention this Foot Fetish short story specifically. I will add five free phone sex minutes to your paid session, as my way of saying thank you for reading!