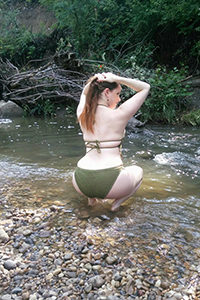 Written by Vanessa Raqs
Excerpt from Dina's Fuck Journal:
In preparation for the surprise I had planned for my husband, Mark, I'd paid for an afternoon at the salon. I had a sexy ambush planned for him…
While the stylist worked to transform me, I'd watched pieces of my hair fall to the floor, in the unfamiliar shade of chestnut brown she'd temporarily dyed it to. She would continue my makeover by adding big, beautiful soft curls to my otherwise straight hair. I was enjoying seeing someone other than the familiar strawberry blond, in the mirror before me.
For my makeover, I got the works! I'd had a flawless mani/pedi and my long, lovely nails were a seductive shade of deep burgundy. My skin was glowing from an earlier facial and I would be getting my makeup done before I left the establishment also. Smoky eyes and false lashes were just the tip of the iceberg there… I'd brought a duffle with me, which contained a brand-new pair of black, thigh high leather boots, the sexiest curve-hugging bronze halter dress I'd ever seen, some large hoop earrings and bangle bracelets in antique brass, and an elegant black velvet choker that I'd playfully pinned a brass-colored bell to.
By The time I left the salon, I looked like a completely different woman… Which was exactly what I had planned for!
I stowed my other clothes in the backseat of my car and drove to the north end of the city, where my husband currently works. I parked a block away from the apartment complex, which he and his crew were constructing, and parked. I waited.
When I received Mark's customary text–expressing gratitude for the end of another work day, and telling me he'd be home soon–I left the car and began walking towards the site. I passed other men, sending appreciative glances my way and I will admit, I felt myself walk a little taller and lift my breasts a little higher, enjoying the attention.
I soon spotted the man I was really looking for. He passed right by me…but not without glancing at my legs! That made me chuckle to myself. He hadn't recognized me! A wide grin split my face as I called out "Hey, there, handsome…".
Mark spun on his heels at the familiar sound of my voice, and he looked right past me, at first… Then his brown eyes landed solidly on me, somewhat bewildered. He looked delicious, standing there in his construction gear… Six feet tall, the wind rifling his short, dark hair. I strode towards him, working an extra swing into my hips. My earlier makeover was helping me to feel especially confident and in-character.
When I'd come close enough to be heard without raising my voice, I said "Looking to party?". Mark's eyes lit up with comprehension! I knew this was a fantasy he'd been interested in, for sometime. That wicked smile which I love so well, transformed his face into the expression which always made my panties wet.
"Well, hello there, sweet thing. I might be interested in a party… What's your name?"
I almost told him it was Dina, simply out of a lifelong habit. But, I had prepared details for this role-play. It would only work right, if I completed the illusion of being someone else entirely. So, I told him "I'm Genevieve… What's your name, baby?".
Mark could not restrain his grin, as he decided to be someone else, also, telling me "I'm Jim! Hey…why don't we step between those buildings, there… I happen to know this area very well and there's a rather private little alcove just ahead, where we can conduct our…private discussion".
Mark took my hand and guided me discreetly between the buildings, though I am sure we did not go unnoticed, which gave me a thrill. This was so exciting!
He pulled me into a little alcove just off the alley which was indeed very private. We could no longer be seen directly from the street.
I leaned my shoulder against a doorjamb there, and Mark leaned over me, placing a hand against the wall above my head. Having him loom over me like that was sexy as hell!
"What do you charge, doll?" he asked me.
Truly, I had no idea what a prostitute would typically charge, but I did know that Mark had collected winnings from some of the other guys at work today, from a bet they'd all placed on yesterday's football game. I also knew what it would cost me to buy the new handbag I'd had my eye on…
I placed my manicured hands against his chest, enjoying the heat of his body. I looked him in the eyes and pressed close to whisper against his ear "It'll cost you $200 for a really good time…". Then, for no reason other than knowing Mark would take it as a challenge, I added firmly "But, I don't do anal". I hardened my expression briefly to convey to him that I was serious.
He gave me a cocky smirk and reached into his pocket. Extracting his wallet, he counted out several bills and put them in my hand. I bent forward enough to give him a good view, straight into my cleavage, and tucked the bills into my thigh-high leather boots.
I stood up straight again. His hand slid behind my neck. He rubbed his thumb up and down the column of my neck, making me shiver, while he took in the sight of me. Then, his hand slid up the back of my head and gathered my hair, gripping it firmly.
He tugged down, guiding me by my hair to lower myself to the smooth cement pad, onto my knees before him. I was suddenly grateful that I'd chosen to wear the high leather boots as opposed to a pair of strappy, come-fuck-me heels.
Without a word, He unbuckled his belt, unbuttoned his jeans and pulled down the zipper. He reached into his boxers and pulled out his rock hard, nearly-eight-inch cock. Pressing the tip of it to my lips, he pushed on the back of my head for additional encouragement. My tongue darted out to taste his skin, then I took the head of that beautiful cock into my warm, wet mouth. I moaned, taking my first suck.
Maintaining his grip on my hair, he thrust his hips forward, forcing his cock to the sensitive back of my throat. He always did enjoy playing rough… I found it exciting as well! I obligingly gagged on his cock. Tears formed in my eyes and spilled down my flushed cheeks. I sucked harder.
The silky black g-string I'd purchased for the occasion, quickly became drenched with my arousal, while Mark continued to fuck my face. He shoved his cock as deeply as he could before withdrawing again. Each time he thrust, the little bell on my velvet choker gave a tiny "ting".
"Thats it, Genevieve, take it deep. You need to earn what I paid you. Oh, fuck, yeah!" He bit out a curse when I swirled my tongue around the sensitive head of his cock, just before he pushed it back into my throat, making my little bell jingle again. Tears continued to roll down my cheeks, and all the while, I purred for him.
Before I could make him cum,he pulled me off his cock by my hair. He helped me up to my feet. Tucking his hands beneath my ass, he lifted me. My legs went around his waist and he pressed me against the dusty brick wall of the building behind us. My tight dress rose above my hips. Mark reached to yank my panties to one side, before forcing his cock into me with one hard thrust. I gasped from the sudden shock of entry. Then I whimpered, submitting to him.
Mark fucked me hard against the wall, pounding my pussy mercilessly. I held onto him, moaning, feeling his balls slap against my ass. An orgasm built and soon broke over me. I bit his shoulder to help muffle my screams while I came, my pussy contracting violently around his shaft.
My body went limp against Mark. I panted, attempting to catch my breath. He slowed his pace, thrusting in and out of me at a more relaxed pace.
Finally he pulled out of me, and helped me down to find my footing on the ground. My legs trembled beneath me, unsteady. Mark grasped my shoulders, guided me to turn around. He gave me a little push to offset my balance and I brought my hands up quickly to brace against the brick wall so I wouldn't stumble.
While I was distracted with staying upright, Mark grasped the delicate straps of my thin panties and promptly ripped them away from my body. I gasped again from the sting. Before I could say anything though, he positioned his hard cock–slick and wet from fucking me–against my tight asshole.
Remembering to stay in character, I snapped at him "I told you, no anal!".
He wrapped one arm firmly around my waist to keep me immobilized, then continued to push his dick inside me. He whispered, harshly into my ear "And I told you, that you need to earn what I paid you". His breaths came ragged as he forced his cock into my ass.
He brought up his free hand to clasp over my mouth, as though keeping his "unwilling" prostitute from calling for help, and leaned his body into mine, pressing me against the rough wall. He fucked me hard!
"Thats a good girl. Take it" he hissed, breath hot against my tear-streaked face. "Take it all, right up that ass, and moan. Show me you love it!" And I did.
With a hard grunt and a barely restrained yell, Mark shot his load into me. He filled my ass with his cum–cum which would be dripping down my thighs in moments.
He dropped his forehead to rest against the back of my head while he worked to catch his breath. Eventually, he said "You okay, babe?"
A breathy chuckle escaped me. In a husky whisper, I told him "I'm fantastic!".
He laughed into my hair. "Fuck, I love you, Dina…" He said.
Mark helped me straighten my dress and disheveled appearance.
We walked, arms around one another, back out onto the street, leaving behind the torn black panties. He walked me back to my car, his cum dripping down the inside of my thighs, all the way. we shared one long, passionate kiss before he closed my car door and went to locate his own vehicle. I started my engine, looking forward to the shower he and I would share when we arrived back at our home.
Recalling the text he'd sent me when he'd left work, I held off from immediately pulling into traffic. I retrieved my phone and opened my text messages. He had written "I hate Mondays! So glad the workday is done. On my way home, love. Can't wait to see you".
Now, I responded with "Hurry home, husband. I have a surprise for you. I dyed my hair! You'll get to make love to a new wife tonight."
His reply was an emoji…with devil's horns!
© 2017-2020 Vanessa Raqs, All Rights Reserved
Want to have some fun with the author?
Follow @cumversewithme on Twitter for Blog/SIte updates