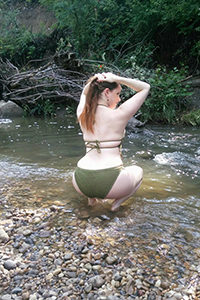 Written by Vanessa Raqs
I looked up into Ken's brown eyes, which were locked on my bobbing head. Those eyes told me Don't you stop. Milk me. Milk me like the good little whore that you are, Mindy. You don't stop until you've taken every last drop and licked it clean! In truth, he never said a word. He'd never had to. I knew what he needed–what he really needed–when he knocked on my door. It didn't matter that he claimed to have come by to see my husband. He knew my husband wasn't home. No. He was looking for me. He needed me to take everything he could give me. Needed my tongue spiraling around the tip of his swollen, dripping cock. Needed my French manicured fingernails teasing those heavy, perfect balls. Needed to cuckold my husband for the sweet, forbidden thrill of it.
He needed to feel the rush of forcing his dick deeply down my willing throat until I gagged on the intrusion. I could feel his longing to watch the tears glittering down my flushed cheeks, anticipating that moment when he'd feed me his cum.
I moaned when I felt him tighten his grip on my disheveled, dirty blonde ponytail. That always came just before he shoved that deliciously hard cock as far down my throat as he could get it.
His hips bucked forward and I took that ramming cock head. I opened my throat muscles to him and felt him penetrate. He didn't pull back out, not right away. He ground his hips forward, holding my head forcefully in place by my hair. He fucked my face…fucked my throat… ruthlessly. Just as I began to get lightheaded from a lack of breath, he pulled back, loosening his grip on my hair. I sucked in a hungry breath, then immediately began sucking on him again, reveling in the wet sounds we made. I devoured that dick like the ravenous, cum-starved, neglected trophy wife and eager slut, that I am. And he loved it. Loved being serviced by his cute little cuckold. His work-roughened hand stroked my hair momentarily, rewarding me.
Carefully, I slipped my free hand between his legs before sliding one slender finger into his ass. It was the finger adorned with my platinum wedding band. He bit out a curse and quickened his pace. With that same hand, I used my thumb to seek out the tiny little indent in the sweaty region, between his ass and his balls. I began to massage that tiny sweet spot in small, deliberate circles. My other hand adoringly caressed his tightening balls one last time before dropping down to hike up the hem of my dress.
I shoved aside the delicate, French lace panties. Eagerly slid two trembling fingers into my drenched slit, then drew them up to my clitoris. I massaged that throbbing little pink nub, coaxing it towards an explosive orgasm. I fully intended it to arrive in time to simultaneously receive his impending load on my tongue. I could hardly wait to taste him.
"Fuck, Mindy–" he barked, just before unleashing that creamy, gooey and delicious mess all over the back of my throat. I moaned deep…then began to scream around his cock as my own release burst between my legs, soaking my fingers and dripping onto the marble floor. I dutifully sucked down his sweet load, all the while. I lingered for every last tiny pearl of cum to hit my greedy tongue, enjoying every shudder of his body before I pulled back and licked his cock clean. I kissed his balls, then looked up at him with a pleased, shy smile, and slowly licked my lips for him. He stroked the top of my head before collapsing against the entryway wall.
I rested my forehead against his thigh briefly while he caught his breath
Once he was ready to speak again, he told me "Mindy, baby, that was amazing…and really unexpected." It was? "But, see,I still need that flashlight I came over here to borrow from Jim… My headlamp blew while I was working under the truck. Do you think you could find that for me now?"
Rather shocked that I'd misread him so completely, I silently nodded, stood, straightened my tight little peach dress and let him watch me walk away while I went to retrieve the flashlight.
By the time I returned, however, handing him what he'd come for, he surprised me with a lingering kiss on the lips. After that, I found myself delightedly fantasizing about surprising him while he worked beneath that truck, by straddling his exposed hips, unzipping his work jeans, and riding his thick cock until both he and that replacement flashlight, blew spectacularly!
© 2017-2020 Vanessa Raqs, All Rights Reserved
Want tto have some fun with the author?
Follow @cumversewithme on Twitter for Blog/SIte updates