Kami's First Blowjob – Submissive Training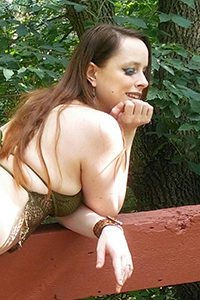 Written by Vanessa Raqs
~Kami~
College life was going smoothly enough these first two weeks, if a bit overwhelming. Kami had kept a low profile and, so far, it had worked out well. After years of attending private school, for girls only, coed college was proving to be a head-spinner…
Kami was a pretty enough girl–freshfaced with clear gray eyes, a sweet shy smile, long ash brown hair that fell in soft curls around her shoulders, and her 5'6″ frame boasted a rather curvy little figure. Her shapely legs were well-toned from years of tennis, badminton and volleyball. The last two weeks of her summer break were spent at her father's cabin, where Kami spent more time swimming in the lake then anything else! Her legs and ass could certainly testify to y that, given how firm they looked in the short denim shorts she currently wore.
After the many hours spent in crowded lecture halls so far today, Kami found herself craving a place to hide. She still wasn't accustomed to being around so many people–and the boys! She had never been around so many boys in her life! Sure, she had experienced a handful of make out sessions while away at summer camps, but they were always so closely monitored. Making out rarely went much further than a little over-the-shirt action before someone lost their nerve, expecting to be caught at any second. Kami had been aware, however, that the possibility of being discovered while in a compromising situation, had thrilled her…not frightened her.
Kami was most definitely still a virgin… So many restless nights, laying in her bed, exploring her own body, had left her so very curious about what it might be like to be explored by another.
All the same, this afternoon she found herself wantingTo put distance between herself and others.
After finding a dark hiding place beneath the bleachers in one of the large campus gymnasiums, Kami settled in with her tablet and began studying. Before long, however, she became aware that there were eyes on her.
~Billy~
Billy had trailed the new girl down the halls. He assumed her to be 18 or 19 years old. He was 22 and nearing the end of his college career. Well-built with dark, almost black hair, bright blue eyes and a handsome face, Billy was quite attractive to the college chicks, and he knew it. He didn't date often. He didn't care to get attached. His home was several states away from his college and any relationships he developed would most likely have to be left behind when he moved back home. Still, a guy needs to play, right? And this cute little brunette whom he was tracking, looked like someone he'd love to play with. She looked so…innocent. Damn, how he wanted to see that innocence undone! Undone, by his own hands…
When he saw her slip into that empty gymnasium, he followed quietly. He watched her find a place under the bleachers where she settled in to read. He continued watching her for a while, imagining the things he craved doing to her, allowing his dick to harden while he examined each curve of her tight little body. When she finally looked up, meeting his eyes, he gave her a confident smirk and approached, ducking beneath the bleachers. Her eyes widened a little, like a doe caught in headlights, he thought. Did she feel like pray? He smiled a little more at the idea. She definitely looked nervous…yet fairly well-composed. She made an effort to cover her startled reaction. Good. He liked that she didn't allow herself to get too shaken.
"Hey there, sweetheart" he said,  "You looked so content under here and I couldn't help wanting to join you. I hope you don't mind?". She pressed her lips together, looking uncertain but didn't object. he leaned over her, pressing his hands against the wall and stared down at her pretty face, which tilted up to meet his looming gaze…and didn't that just give him all kinds of ideas!
He smirked again and placed one hand confidently on the side of her face, pressing his fingers into that soft brown hair. Again, she looked a little startled. He really enjoyed that. Just like last time though, she reined in her reaction and affected a calm expression. He liked that too.
~Kami~
She felt her heart racing like that of a terrified rabbit. She was determined though, not to let this boy see how strongly he had affected her.
When he had placed his hand on the side of her cheek and slid his fingers into her hair, shock and heat had zinged through her. She stayed very still, her eyes fixed on his, as his hand continued to move through her hair to the back of her head. He gathered that hair into his fist and gripped it at the nape of her neck. She didn't miss the heat that gathered in his own gaze. Her body responded to it. A slight shift in her position made her aware that her panties had become very wet!
"So pretty…" He said quietly, presumably to himself. Then, in a stronger voice he said "I want to see those pretty pink lips around my cock".
Kami again felt her eyes open wide, her cheeks growing hot at this boy's brazenness. Her heart still pounded hard and her whole body thrummed. Her breathing came fast, and, for all that she was shocked and frightened, she realized she had no desire to leave. Even though she really should.
As if reading her thoughts, he gave her that cocky smile again and gave her hair a little tug to remind her that she was not the one in control right now. She blinked rapidly, swallowed hard, and made a decision…she gave in to the  moment.
Kami recognized a sharpening in his expression that suggested he'd read her silent compliance–her submission to this–in her pale gray eyes.
He raised one finger to his own cheek, to get her attention, then moved his hand down. Her eyes tracked its movement. When it rested on his belt buckle, she drew in a soft shuddering breath, anticipating. Curiosity and lust tempered her fear.
His fingers moved. The belt buckle fell open with a soft "click". He undid the button on his jeans and began to reach for the fly, but then he stopped. He said to her "Unzip me. I want to watch you take my cock out".
She swallowed hard again and lifted her hands, noticing how they trembled. He noticed them too and she didn't miss the wicked way he smiled at that.
She gripped and pulled down the zipper fly. She pulled open the two sides of his jeans to expose the navy blue plaid boxers beneath. Tentatively, she reached to pull down the jeans and boxers just enough to see… And there he was… A very hard, thick shaft that was a little over 7 inches, by her estimation, with a wide mushroom head. While she gazed at it, taking in the view of the first cock she had ever seen in person, a tiny pearl of pre-cum beaded at the tip of its head.
This boy before her–had he even told her his name?–tightened his grip on her hair and pulled her head back enough to meet his gaze. He told her "I want you to lick that off". He relaxed his grip a bit, to let her return her attention to that very task.
Unsure, she parted her lips to reach out with her tongue. Abruptly, he pushed her face forward, gripping his own cock and placing the tip of it within her reach. She did as she was told and tasted the warm saltiness of him. When her tongue made contact with his sensitive, smooth flesh, he bit out a curse, then commanded her "Lick it all off! Then circle your tongue around it". She hesitated only a moment, wondering briefly if it were possible that he knew she'd never done this before. Then she lapped at him in earnest, taking in every drop of what he offered her, before exploring the rest of that now-glistening mushroom head with her tongue.
She reached up with one hand and touched his own, which was wrapped around the base of his shaft. Promptly, he removed his hand to grasp hers and placed it where his had been only a moment before. She wrapped slender fingers around it, amazed that he could feel so hard and yet so soft at the same time. She moved her fingers along the smooth, taut skin, enjoying the feel of him. When he pushed her head forward again, she took the head of him into her warm, wet mouth.
"That's it, baby…" he praised. "Now suck on it". Kami did, beginning to draw him in and out as she did so. His moans began to echo in the empty gymnasium. His hand which gripped her hair, began to push and pull her, not so gently encouraging her to take more of him into her mouth. she felt a little awkward but was determined to do this right. She had enjoyed his praise more than she'd expected to.
One of Kami's older cousin's had once regaled her with stories about how to give head. She had been more than a little fascinated by her cousin's exploits, and eager to experience such things for herself. Now Kami pulled  everything she could from her memory banks, recalling what her cousin claimed men liked and, even more important, what she had warned against doing.
Suddenly, and without warning, he held her head still and shoved his cock to the back of her throat. He held it there until he heard her gag. "Good girl…" he growled, as tears formed in her eyes then rolled down her flushed cheeks.. "Fuck, that feels amazing! Don't fucking stop. You're going to make me cum". He was fucking her face now, not really allowing her to move her own head, but Kami did her best to keep a tight seal on his cock, trying not to let up on the suction except to swirl her tongue around the head whenever he pulled back enough. Was she really doing this?
"Stroke my balls, sweet thing…oh, yeah… Stick your other hand in your shorts, right down into your panties. You know how to make that little pussy cum. I know you do. I want to feel you moaning around my dick".
Needing the release badly, Kami eagerly obliged him, unbuttoning her shorts before slipping her hand down into her wet cotton panties. She made frantic circles over her swollen clit and felt the pressure of her arousal building. With her mouth full of this boy's cock, she moaned around it and felt certain he could feel the vibrations of her voice against that thick, throbbing shaft.
The intensity peaked and her orgasm smashed into her! She screamed around his erection and his response was immediate. His grip tightened further on her hair and he thrust into her mouth with abandon, beginning to cum into her. She felt the hot spurts hit her tongue, tasting the salty bitterness of it in her mouth. A final wave of her own orgasm crested and left her mindless for an incredible moment.
Still holding her head in place, panting from his own release, he commanded her "swallow all of it". Without a thought, she complied. "Good girl…" he said again, finally releasing his grip on her hair and allowing her to release him in return. He stroked her brunette curls as he looked down at her with an odd expression on his face…one Kami couldn't quite interpret. As though the words were pulled from him, he asked her "What is your dorm number?". She told him, watching while he put himself back to rights. He gave a brief nod, seeming curiously resigned. Looking past her then, he said "you will be seeing me again".
A wicked glint came into his eyes then, glancing down at her still-open shorts… With Kami's confused gaze following his movements, he reached down into one side of the loosened garment, breaking the delicate strap of her bikini-style panties on that side, and then he did the same to the other. With one sharp motion he yanked her destroyed panties out from her shorts. Her sudden gasp only made his eyes dance with enjoyment. He balled her cum-drenched panties in his fist, showing them to her and gave her one more of those maddening smirks, before turning and walking away.
~Billy~
As Billy reached the gymnasium doors, he turned to take one last look at the pretty, disheveled creature whom, he knew, would quickly become his addiction. She still knelt where he'd left her, watching him with speculative eyes. There were so many things he wished to do to her, to introduce her to. And he would. He would take her innocence apart piece by delicious piece. And he'd make damn sure she loved every second of it, in spite of herself.
One last thing occurred to him before he stepped through those doors. He called out "By the way, I'm Billy!". She looked startled for just a second, but replied simply "I'm Kami…".
He thoroughly enjoyed seeing that moment in her eyes when she fully realized what she had just done with a complete stranger.
© 2017-2020 Vanessa Raqs, All Rights Reserved
Want to have some fun with the author?
Follow @cumversewithme on Twitter for Blog/SIte updates!